African American Women In Cinema is pleased to announce its 23rd AAWIC Film Festival, happening Virtually.
New York, NY, USA | March 13, 2023 –[Press Release Wire]– 23rd AAWIC Film Festival is a historic event that will feature the premier on Opening Night of the highly anticipated film, "Bobby's Kids." This story by celebrated filmmaker, Brandi Mitchell, is about how one man empowered a whole generation of inner-city Detroit kids to see the possibility of going to college through music. The historic program will honor prominent industry professionals including Sierra McDonald of WE tv, Shana Amber Williams, Actress from the Global Hit TV Series, "The Chosen" and the Iconic Actress and Comedian, Marsha Warfield. In addition, the festival will feature a special presentation by Honorable, Jumaane Williams, the New York Public Advocate and it will include workshops on screenplay writing along with independent films from women filmmakers of color and a showcase of the next generation of filmmakers!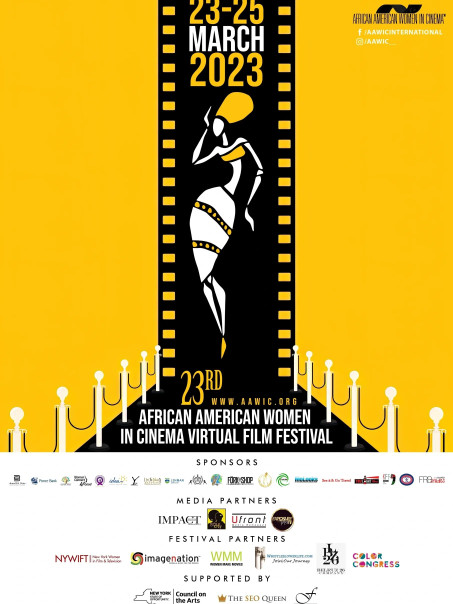 "I am thrilled that we are executing another Historic event for the world to see!" Terra Renee, AAWIC President and Founder
In addition to this event, African American Women In Cinema has launched the AAWIC Trailer of the Year Award! filmmakers/Webisode/Content Creators can submit now through March 20th and voting will begin on March 21-25, 2023. Filmmakers and Webisode/Series content creators will have the opportunity to submit their trailer to win the AAWIC 2023 Trailer Award.
To submit your trailer, click on https://soundsurf.com/station/aawictrailer and click on "AAWIC Trailer of the Year Award." To enter your film/webisode/series must be completed by 2021 or current work-in progress is acceptable.
The film/webisode/series must include a woman film Writer, Producer, or Director of color. Filmmakers / Webisode Content Creators can upload multiple entries, but each entry must be a different trailer. The global viewing audience will view and vote for the Trailer of the Year. The trailer that receives the most votes will win the award! Upon uploading your video, it will require a sign up for a 30-day free membership. For those who would like to vote, you will be required to create an account to register to vote, no payment will be required.
The Trailer of the Year Award is Sponsored by Biggs-v-Biggs and Supported by Sound Surf.com and the Independent Film School.
To get more details on the festival and to purchase tickets visit www.aawic.org. The festival platform charges a surcharge fee per ticket purchase.
Follow our social media for more information and updates:
Press & Media Contact:
Terra Renee
African American Women in Cinema
https://aawic.org