The good way for your children to cook and taste flavoursome dishes.
London, England, December 30, 2019 -(Press Release Wire)-
About the Book:
With "Cook with Flo", you will enjoy simple and easy recipes for the whole family. In it, you will find some of the most popular recipes that Flo has created over the last five years with Kids En Cuisine.
The recipes focus on healthy food and most of them are vegetarian, vegan or gluten-free. For each recipe, there are also "little chef" tips to help you try even more new flavours.
These are Florence Rebattet's most delicious recipes and she can picture her little chefs leaving the classes with the biggest smiles, carrying the bag as a trophy and saying: "I made it! I am a chef!"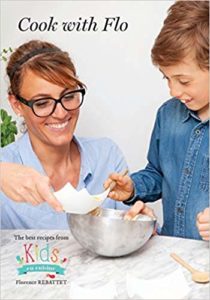 About the Author:
Florence Rebatter is the founder and owner of Kids En Cuisine.
After 5 years running Kids En Cuisine, being selected for different awards in London for the quality of teaching, opening weekly cookery clubs in school, partnering with Planet Organic, As Nature Intended and Whole food Market, she decided to write her first recipe book.
Over the years, she has experienced many memorable moments cooking with little chefs and it gives her great pleasure to picture your children turning these recipes into tasty meals in the comfort of your own kitchen.
For further information regarding Kids En Cuisine, please visit – http://kidsencuisine.com
Amazon Review:
Sergei
5.0 out of 5 stars
Amazing book for children
27 November 2019
Format: Paperback Verified Purchase
"Most convenient recipe book for little ones."
"Cook with Flo: Kids En Cuisine Recipe Book" is available to purchase in hardback from Amazon UK at:
https://www.amazon.co.uk/Kids-En-Cuisine-Recipe-Book/dp/1789557674
This recipe book is also available to purchase in paperback at:
https://www.amazon.co.uk/Kids-En-Cuisine-Recipe-Book/dp/1789557666
ISBN #978-1789557664
Press & Media Contact:
New Generation Publishing
Tel: 01234 712 064
E-mail: [email protected]
URL: http://www.newgeneration-publishing.com