Bold, beautiful, and visually stunning, these limited-edition classic retro styled jerseys are sure to become collector's items among Celebs and Influencers alike.
Plainfield, NJ, USA | May 16, 2022 –[Press Release Wire]– "Take me out to the ball game" has never sounded so good now that, both Covid restrictions have been rescinded and Baseball season is in full swing. Like peanuts and popcorn, the love for the game runs deep and its timeless look has made a comeback. The emerging popular fashion brand Fashion 4 The Leisure Class™ has just released its exciting new vintage Classic Baseball Series Jersey's.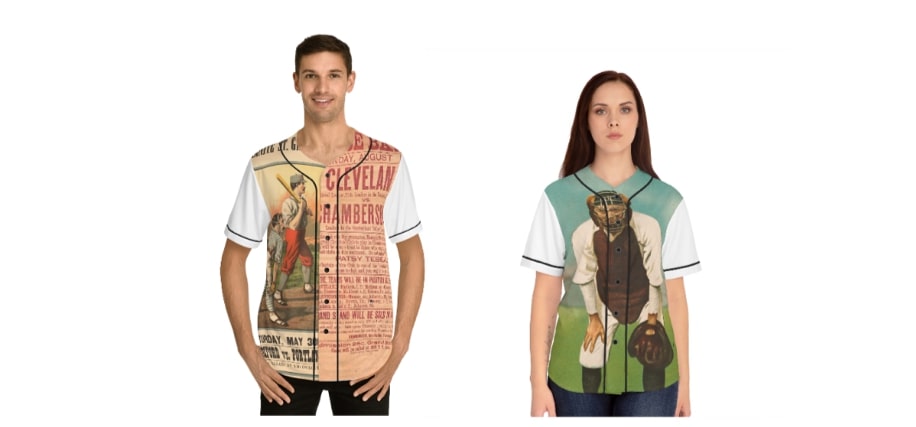 Bold, beautiful, and visually stunning, these limited-edition classic retro styled jerseys are sure to become collector's items among Celebs and Influencers alike. Not unlike the Babe Ruth 1920 Jersey which sold for a whopping $4.4 million in 2012 or the Mickey Mantle 1952 Baseball Card which recently sold (Jan. 2021) for $5.2 million, these popular limited-edition fashionable investments will bear fruit with time. As stated by a recent article on Medium, "limited editions are considered a worthy investment".
Created with a nostalgic reverence of the past, a contemporary look of the present, and an appreciating view of the future, this signature collection was designed for those who intrinsically understand the subtle nuances of vintage style, taste, and the emerging post-pandemic exclusive nouveau Athleisure Class. Constructed of strong durable moisture wicking material (transfers moisture away from your skin during any physical activity and keeps you cool), for both Men and Women, these fashionable classic Baseball Jersey's are sure to turn heads and make the wearer, both the arbiter of exquisite taste as well as the favored center of attention. Don't be surprised if asked, when donning one of these beautiful creations, "Where did you get that from?", from both strangers and admirers alike.
Taking Your Leisure Wear Game to A Vintage Level
Headquartered in a Historic Landmark 1870 Victorian Mansion (Maison de Pillars), Fashion 4 The Leisure Class™ origins stem from a deep love for vintage fashion motifs from a bygone era. Fashionably designed by Author, Designer, and historical aficionado Prometheus Worley, Fashion 4 The Leisure Class™ has no language but speaks to everyone. It defies the boundaries of identity, gender and sexuality, upending authority, and class. It's a retro fashion aesthetic that belongs to no one…but is for everyone.
In his new book When World's Collide: Leveraging The Power of Literature, Art, and Fashion (Due for release Fall 2022), Prometheus Worley explores the very fascinating historical allure, reverence, and power in which these reoccurring vintage fashionable motifs thrive and transform all levels of society. When asked why he chose "Baseball" as his first signature designed collection to promote internationally, Prometheus stated, "Although Baseball is somewhat viewed predominately as the American pastime, it is loved, appreciated, and genuinely adored globally, with millions of fans in countries all over the world. Millions of Americans love international sports like Soccer, Rugby, Cricket, Badminton, Cycling, Rowing, Sailing, just to name a few; so why not celebrate and share some of the beautiful iconic vintage moments within Baseball, through fashion internationally.
Prometheus Worley shares his time between Europe and the United States. He is an Environmentalist, Sustainability Specialist, Author, Designer, and Audiobook Narrator, whose passions include Climate Activism, Philanthropy, Fashion Design, Fine Art & Antiques, Hiking, Backpacking, Meditation, Yoga, and international cultures.
As a Business Owner, Consultant and Reviewer, he has written widely on Healthcare Sustainability, Environmental Health & Safety, Classical Literature, Health & Fitness, International Travel, and the Luxury Industry. When not traveling or visiting Monasteries, Temples, Art Auctions, and galleries, you will likely find him and his family of five engaging in wonderfully warm fireside chats, hiking, and /or restoring vintage Victorian properties.
Website: www.fashion4theleisureclass.com | Email: [email protected]
Press & Media Contact:
Prometheus Worley
Hampton Court Press LLC
922 Central Avenue
Plainfield, NJ 07060
United States
+1 201-306-0728
https://www.fashion4theleisureclass.com